a2z
Garden
Setting
Tomatoes... the green ones.
Tuesday, October 04, 2011
Colorado's first winter storm for the 2011-2012 season is due tomorrow. That means goodbye garden. After a few weeks of running outside ...
Colorado's first winter storm for the 2011-2012 season is due tomorrow. That means goodbye garden. After a few weeks of running outside at dusk to drape blankets and sheets over my plants to protect them from frost (we've already had a few), today I determined it was time to put the garden to bed. I picked the remaining pumpkins and squash and green tomatoes in the rain this afternoon, and left the garden gate open for the deer and bunnies and other critters to come in and glean the remnants from the peas and beans and spinach and lettuce.


Tomatoes are strange. The leaves and stems are toxic (a member of the nightshade family, like hemlock), but the fruit (yes, tomatoes are a fruit, or technically, berries) is delicious. At our altitude, with our short growing season, they tend to be challenging to grow, and nearly impossible to ripen on the vine. As a result, I have a bay window full of hard, green 'maters. A few of them have ripened in the sun over the past few days, but I'm concerned that the ugly weather forecast for the rest of the week means we're going to be eating lots of very green tomatoes.

So tonight I made fried green tomatoes. (I only recently realized one of my Pampered Chef lids fits my mountain man rendezvous authentic cast iron skillets ... Suddenly, fried foods are not the messy misery they were before. Darn it.)

Here's the recipe...

Heat oil of choice in cast iron skillet. (I used canola) and heat to medium heat.
Slice your green tomatoes. 1/4 inch thick is good.
In a shallow container (pie pans are good) mix 1 cup flour with cajun seasoning, salt and pepper to taste. (I used Tony's Creole, because I had it available. I added salt and black pepper.)
In another shallow container, mix 1/2 cup milk or buttermilk with 1-2 eggs (depending on the number of tomatoes you plan to fry. I fried 8 tomatoes and used 2 eggs.)
In the third container, mix 1 cup cornmeal with 1/2 cup bread crumbs. I had Italian flavored bread crumbs on hand, so that's what I used.
Dip your tomato slices in the flour/seasoning mix, then in the milk/egg mixture, and then coat both sides in the cornmeal/bread crumb mixture.
Fry for 3-5 minutes per side (or until golden brown) remove and place on paper towels to drain.
Interestingly, hubby and sons thought I'd deep fried a bunch of zucchini. *sigh* Whatever.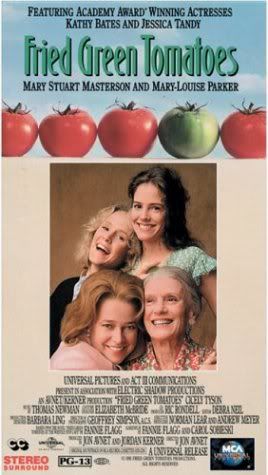 Do you remember the "Fried Green Tomatoes" movie? I do, vaguely. More, I remember the atmosphere of the movie and the attitude of the characters; the way "fried green tomatoes" – something many viewers, myself included, had never tasted – came to represent an idea. I haven't watched the movie in years, but the mention of fried green tomatoes triggers thoughts of Southern living, of strong women, of inspiration, and, most importantly, of friendship.

What books or movies or television shows are marked in your memory by a food, or a specific location, or a certain "something" that generated an atmosphere you can't forget? Can you put your finger on the "thing" that made that story unforgettable?


"T" is the latest in the a2z4u and me blog meme. For more "T" posts, click the picture!